Last week I got the news that one of my really good friends passed away suddenly. The days have come and gone and I still find it difficult to write about him. We spend hours together everyday for a long time, he was my walking pal and a boyfriend to my Mischa. He was 140 lbs love bug and drool factory in one. I loved him. He was a Neopolitan Mastiff that turned heads wherever he went, he was more than just a dog. He was my friend and he always be in my heart. His name was Pablo and I miss him dearly.
The photo above hangs in my office and it was the cover of my business plan when I started Off Leash Photography. Pablo was one of my first models. He was magnificent and sweet. His big posture intimidated a lot of people, but once they approached him they would know what a loving dog he was.
I was his surrogate mom (when his rightful momma went to work), we would hang out at the beach or park.  He put the smile on my face.
It is so hard trying to tell you about Pablo. There is so much to tell. I normally never post photos of me, but with these ones I am so happy I have them. I am so grateful that I took so many photos of him. Looking at these today I remembered all the funny things that happened on our adventures… I like to live in the moment and believe me I do not carry my camera with me all the times, when I do I miss too much…It is hard to explain, but when I photograph that is all I do, I concentrate on my images and the life escapes me. So I am glad that my relationship with Pablo was not just through my lens.
This was  a hot day and Pablo enjoyed a little splash in the fountain.
This image (above) it is also in my office (edited version without the leash and not so much of the privates showing). This again was one of the walks where I took the camera and saw that amazing car parked on the street.  I do love this photo. It really takes me back in time.
Pablo most likely did not know, but he was a great therapist, he taught a lot of kids not to be afraid of big dogs. I took him around my sons preschool and told the kids about him. Also my own son trusted him and it was so good to see their relationship develop from caution to unconditional love.
My whole family loved Pablo, Mischa was his official girlfriend and Pablo did not like other dogs paying too much attention to her. Pablo thought it was disrespectful and had to let them know that this behavior is not welcomed. He did not have a mean bone in his body, but just like you expect from his breed, he was very protective of the ones he loved.
It is not my place to talk about relationship Pablo's parents had with him, but I can quote their Facebook announcement of his passing:
"Today I lost the best friend I have ever had or will have. Those who knew Pablo would agree he was 1 of a kind. He died in my arms and I feel privileged that I was able to be there for him the way he was always there for me. Our family is going to miss him so much, Thanks for being such an incredible dog, friend, family member. RIP Pablo xo"
Pablo was always there for George and Amie, he was at their wedding and took care of Amie during her pregnancy, kept her company at all times and always, always looked out for her and his dad.
I believe that he is looking down on them and making sure they are ok. This is just the kind of dog he is.
I want to leave you now with a glimpse into Pablo's life. My lovely Poopsy I miss you!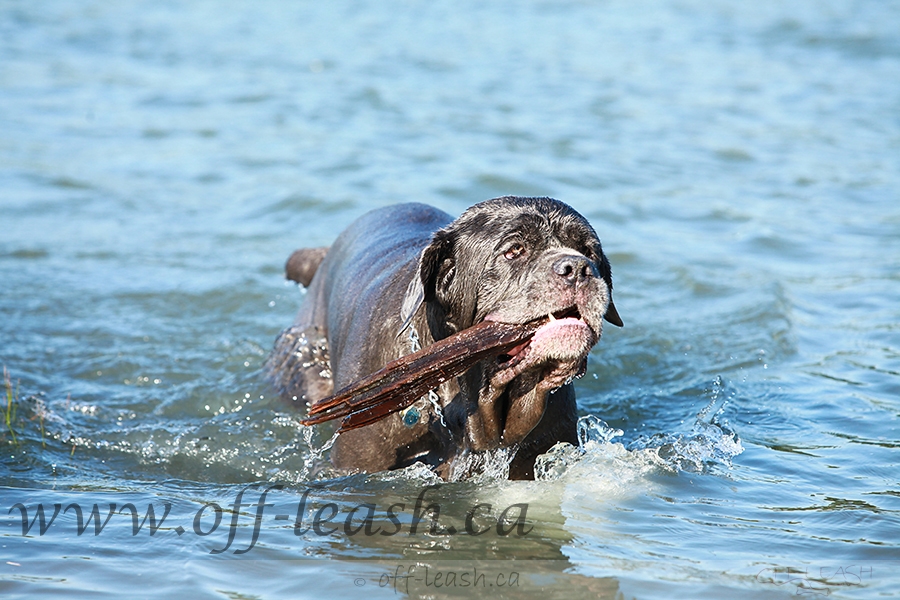 Pablo loved water, especially on the hot summer days.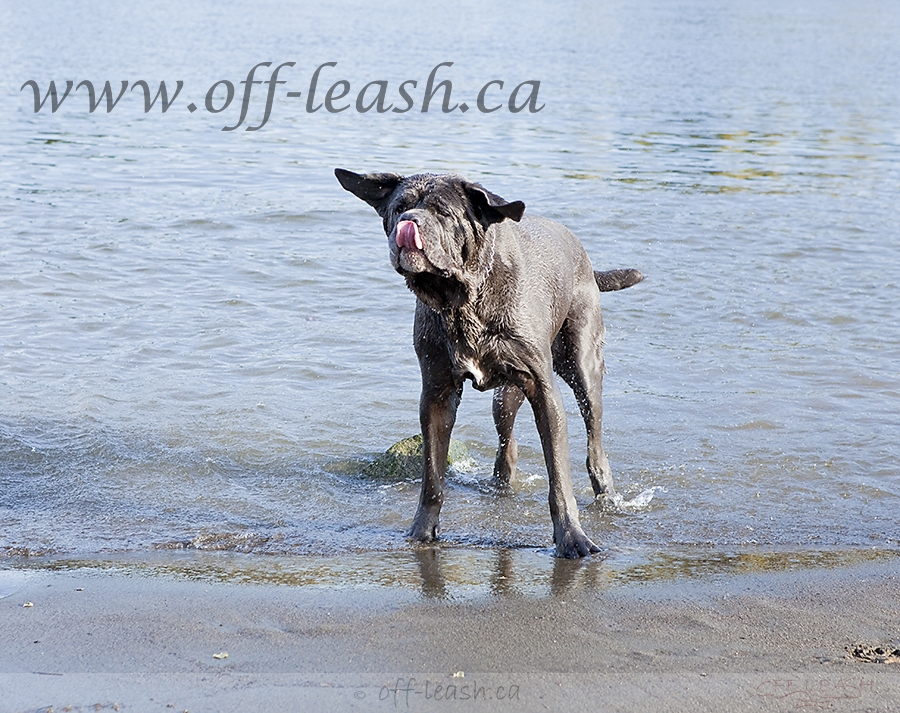 Pablo and Mischa played so well together, she sometimes drove him nuts being a stubborn bulldog or giving him way too much attention with constant kisses.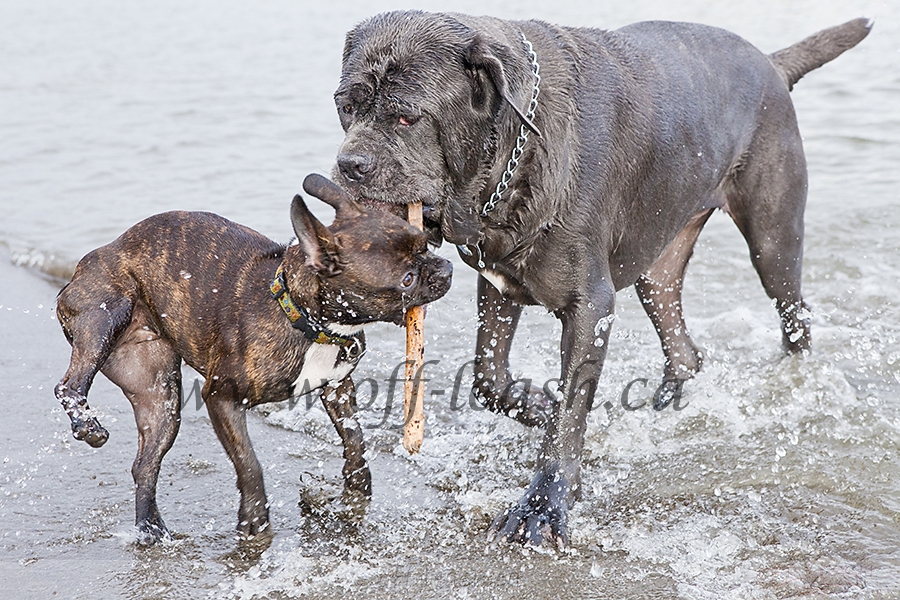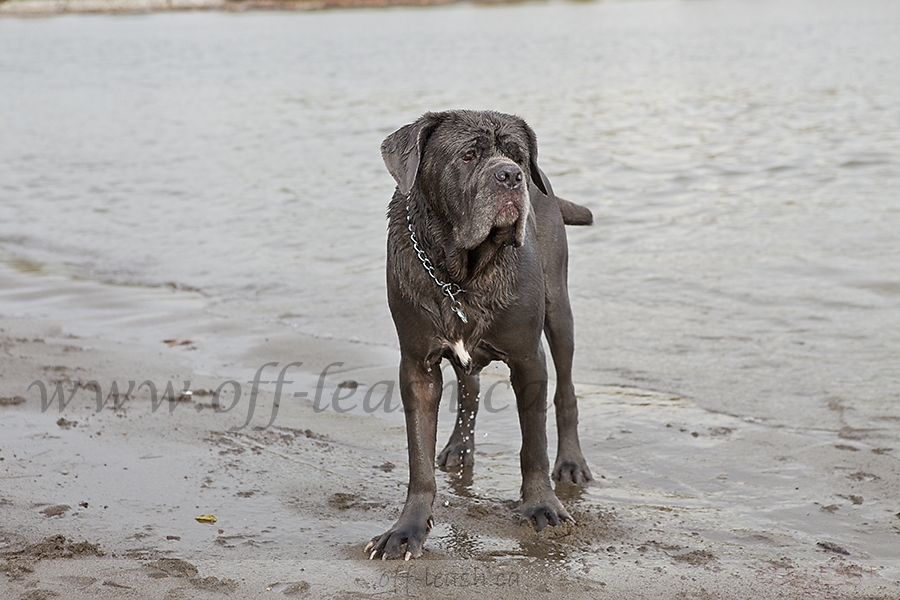 He also loved sleeping in mommy's and daddy's bed, George used to end up on the couch when Pablo needed to stretch out, I am not making this up! This is how much pull Poopsy had.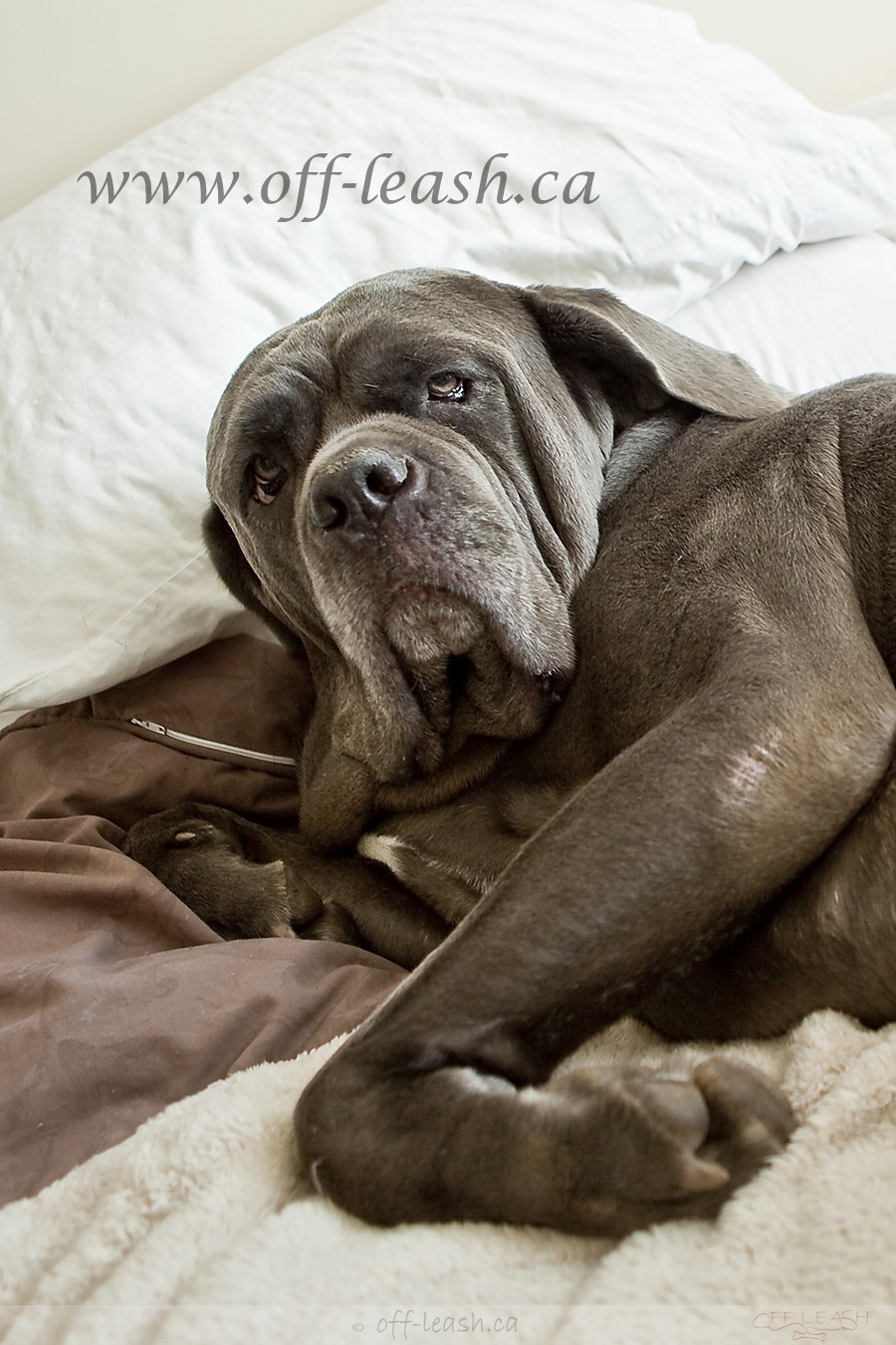 You can really see his Neapolitan profile, so gorgeous!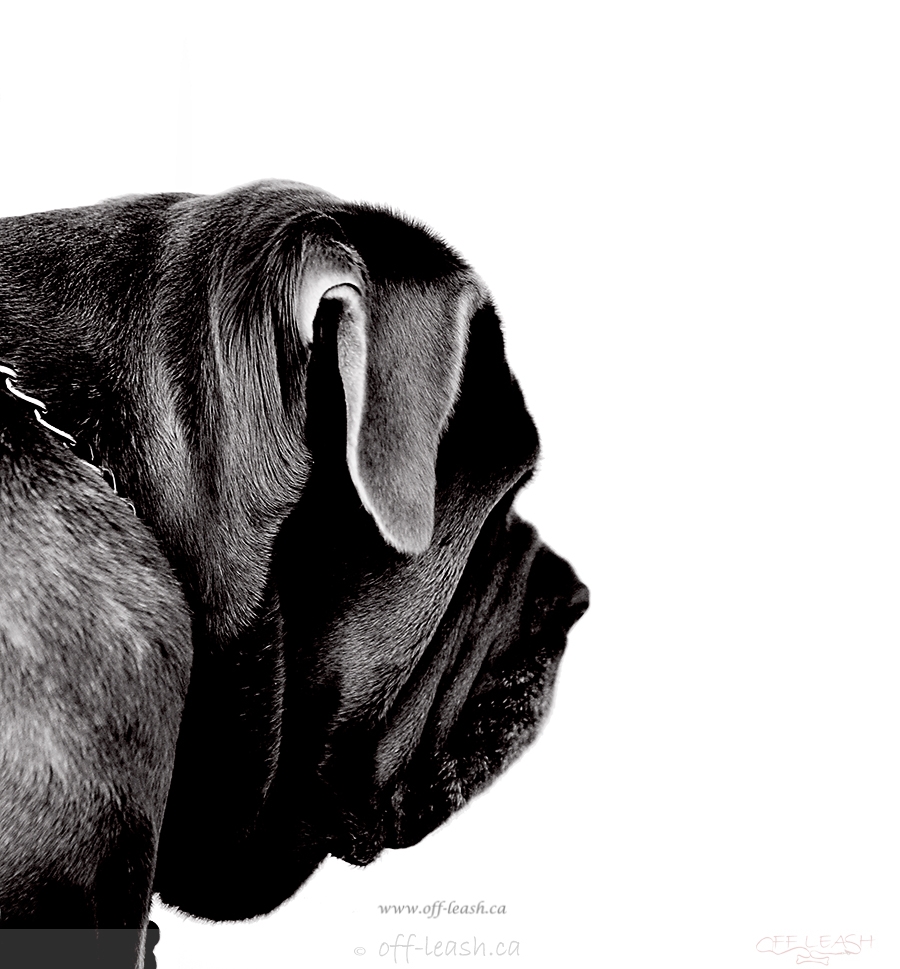 Can you believe what he let us do to him? I needed some photos of doggy bath and Pablo and his mom were a game! He was so awesome!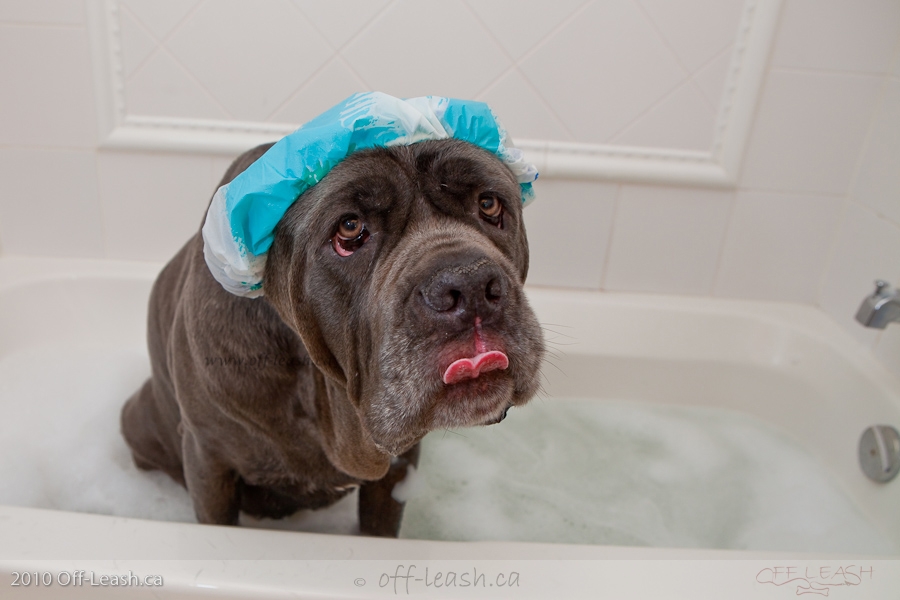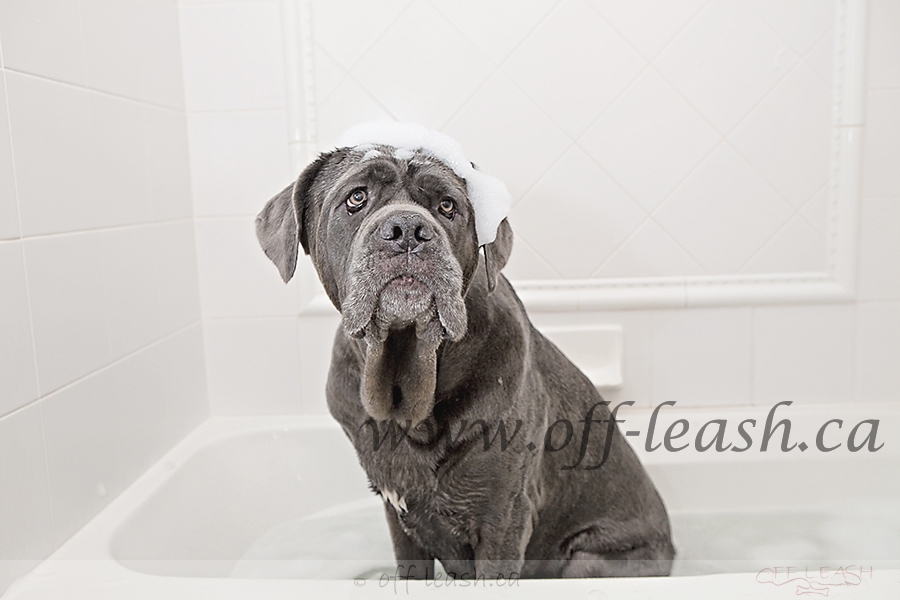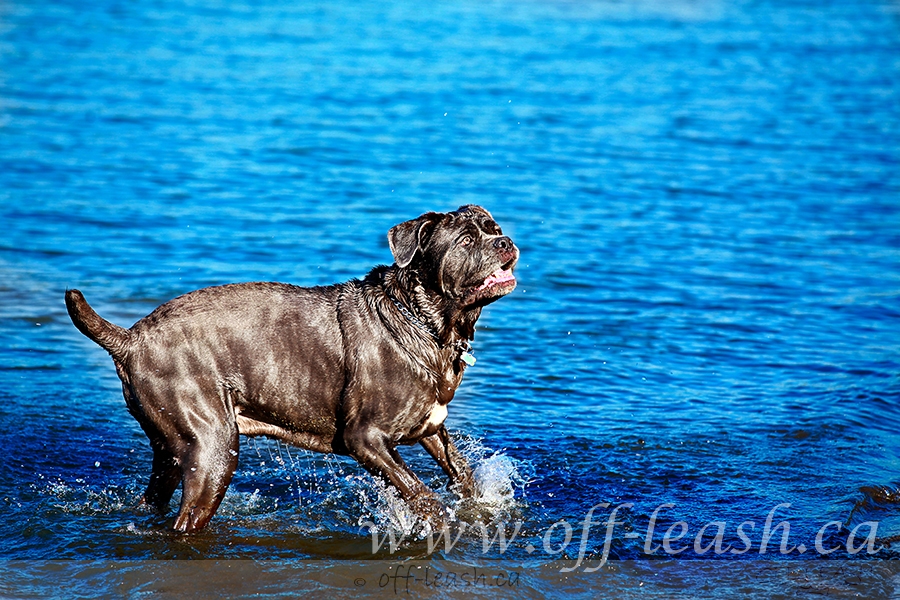 After the swim you need to shake and when Mastiff does it…it is funny!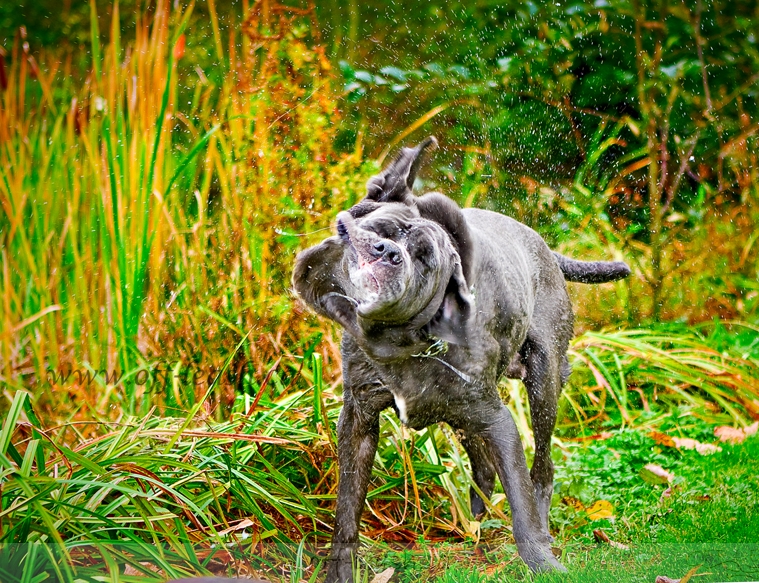 Pablo also liked the snow, it was so much fun watching him play and goof off.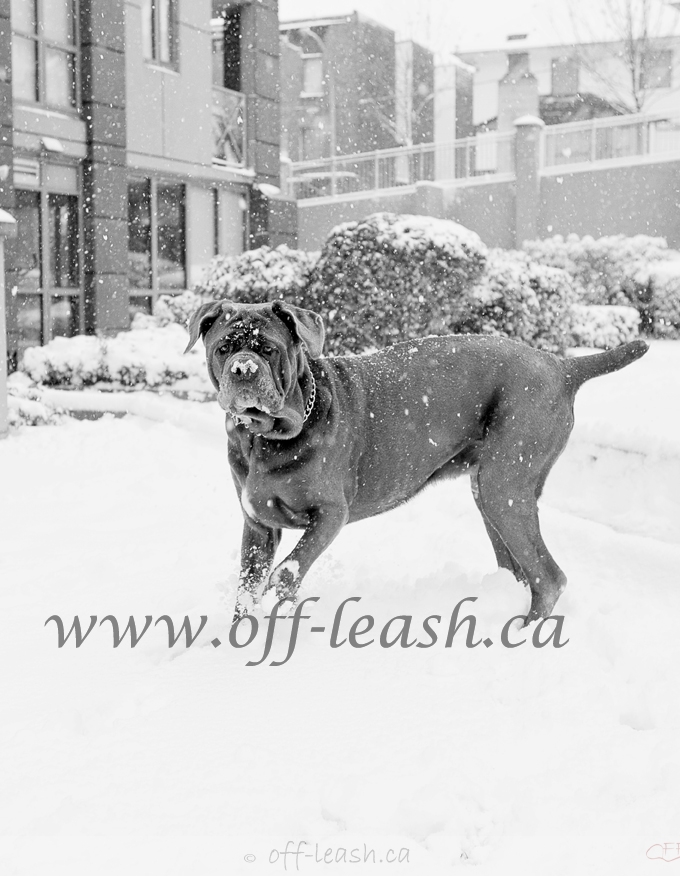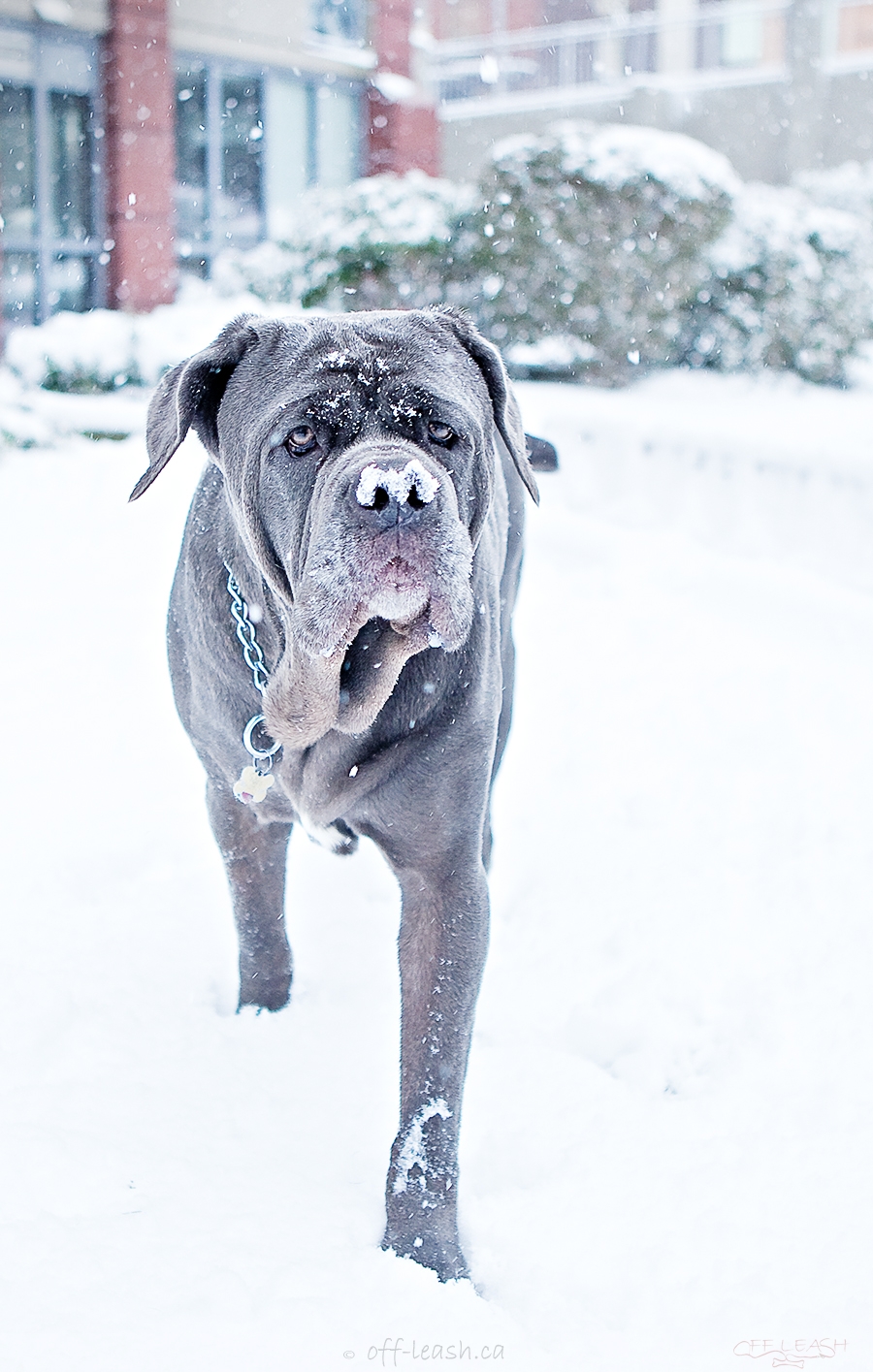 This photo, contrary to popular believe was not altered in any way, I just wish the focus was better, but it was so hilarious I had to share it.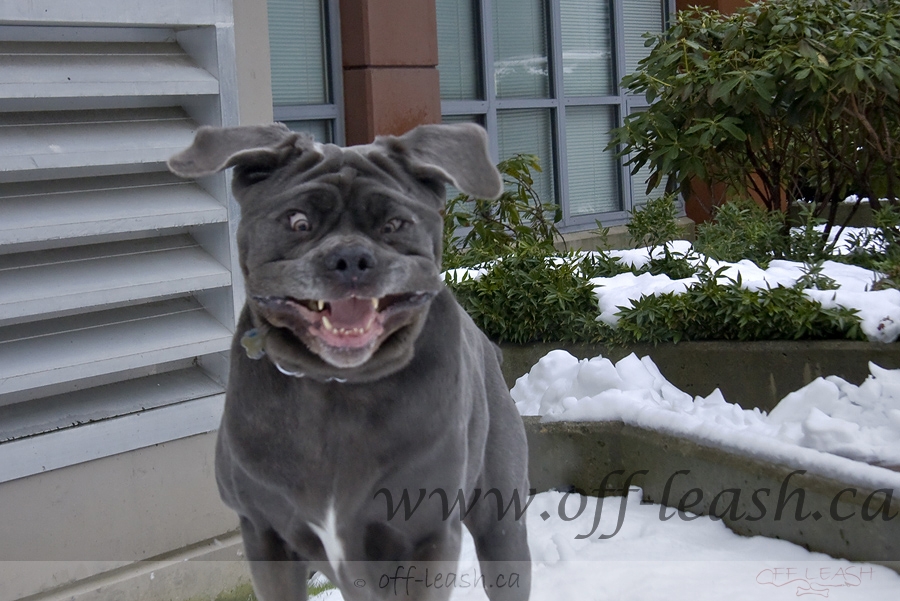 I will always remember you with the smile on my face. I cherish all these memories. I miss wiping your drool from everything possible. I miss you leaning against my leg or waiting patiently for your "chickes" just to try to eat my arm when you got it. I miss the stare you gave me when you did not want to go home yet.
I miss you planting your feet in the garden when your mom was home and you did not want to leave her. I miss the excitement you welcomed me with everyday.
I know you were waiting for me to come and get you and I was excited to see you too. Thank you for all the wonderful times and affection.
I miss these little noises you made when you wanted to get attention, and yes rare for you, but I still can hear your bark.
Until we meet again. You were a good dog, now go on eat your breakfast and have a nap on heavenly bed. You have earned it.
And here is more of Pablo: